Discussion Starter
·
#1
·
This Is how I installed my Badger Ordnance Bolt Knob on my Remington 700 LTR with a few simple tools and lots of patience. There is nowhere on line to find this information much so I thought I would try to help share some knowledge on it if you are interested, we will be cutting on our existing bolt knob and threading it for the new. Heres is a list of what tools and supplies I used,
1. Bolt
2. Cut-off wheel or Grinder (Take Time Using Grinder as getting bolt knob really hot could cause your die to not properly thread or not thread at all.)
3. Black tape ( To keep grinder from scuffing up the parts of bolt and keep metal out of it.)
4. 5/16x24 die/with handle, bought my tap and die set (40Pc.) $16.00 local hardware store.
5. metal file set. also purchased at local hardware store for $10.00.
6. 80 grit, 220 grit sand paper, or you preference.
7. Table Vise ( This makes the job much faster more accurate and easier.)
8. Krylon Black Camo Spray Paint, (For Touch Up Purposes)
9. Epoxy, or thread-locker to hold new knob good and tight.
10. New Bolt Knob to Install,
Just so everyone knowes this was my first time attemting this and first time using tap and dies, not that hard patience is key.
(1st Step) is to remove bolt from Gun, Tape up all areas good with black tape or whatever you prefer and tape everything up good but bolt knob/and handle, this will keep grinder or cutoff wheel from scuffing up any finsh, and keep the grinded metal from working up into the inside of the bolt.
2nd Pic I have ground the knob flat on both sides, this is all you need is to make it flat (dont over do it.)
3rd Step is to cut the knob at the same angle as the bolt handles with a cut-off wheel or use a grinder but take your time here leave a little of metal to file so you can properly thread later. once you've done this step you sould have a square looking bolt knob.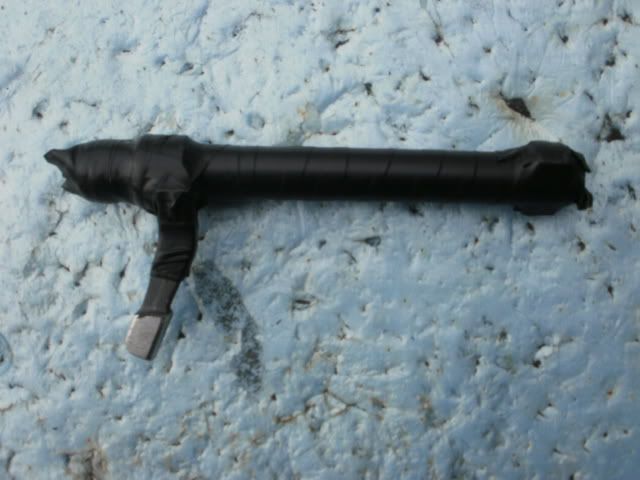 4th Step ( I appologize but dont exactly have a pic of me filing on the bolt handle, but you with try to file in such a way that you make the sqyare part circular, about 3/4 inch on the handle, once you get close test fit with you 5/16x24 die, to insure you dont go far he is a pic with the tools and all, this part is the most time consuming in my opinion. so take your time.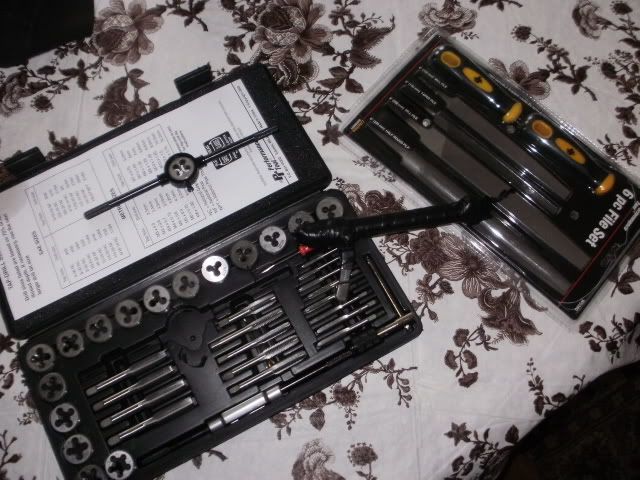 5th Step once you have the bolt handle filed enought to start threading you wanna make sure you start you die straight and level no room for mistakes here, once you have got a couple threads started as I did in the pic move to a vise if you have access, it makes the process much much better, and be sure to use plenty of cutting oil on it.
6th This is what you should have after finishing the threading process ( Note the threads are about 3/4 long. at this point you can began sanding any rough spots with 80 grit, fisnish with 220 grit and begin painting.
Another Pic, Kinda blurry cleaned up for paint, don't forget thread locker or epoxy to hold new knob on tight.
Finshed Product