Discussion Starter
·
#1
·
On my last trip to S.C. I stopped by a gun store and saw one of these beauties in there but with a hell of a price tag on it. My initial thoughts were that the glass is pretty damn clear and that the scope has so many features that other scopes with much higher price tags do not. after doing some research I found the scope for a great price. their USA headquarters is 15 minutes from my house, top that off with a lifetime REPLACEMENT warranty and i was sold. here are some of the specs from the web site. (
www.konususa.com
)
Technical Features
KONUSPRO-M30:
Flip-up covers included (<------these are by far no where near the quality of butler creeks)
Locking tactical turret knobs (resettable to 0)
True 30mm tube (throughout)
Locking fast focus ocular
Engraved Mil-Dot reticle (blue illuminated)
45° Offset Illuminator switch
Mid-sized parallax wheel (down to 10 yds)
Fully Multi-coated optics
Precision 1/8 M.O.A. adjustments
Reticle placed in the second focal plane
Built-in anti-canting bubble system
4" sunshade included
Waterproof, fogproof, shockproof
First thing i fell in love with was the glass etched reticle. I have grown to love this from my zeiss.
the nobs for adjustment were audible but not as distinctive as other scopes, the clicks were repeatable and felt crisp.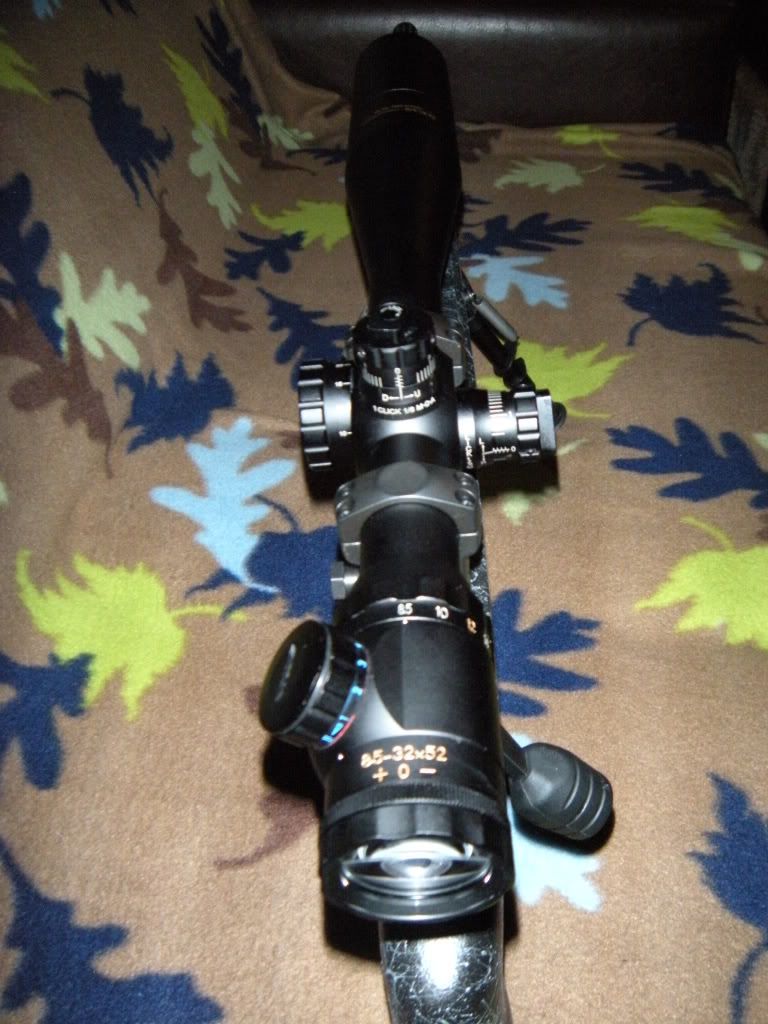 Between the ocular focus ring and the parallax adjustment a crystal clear image was easily obtained.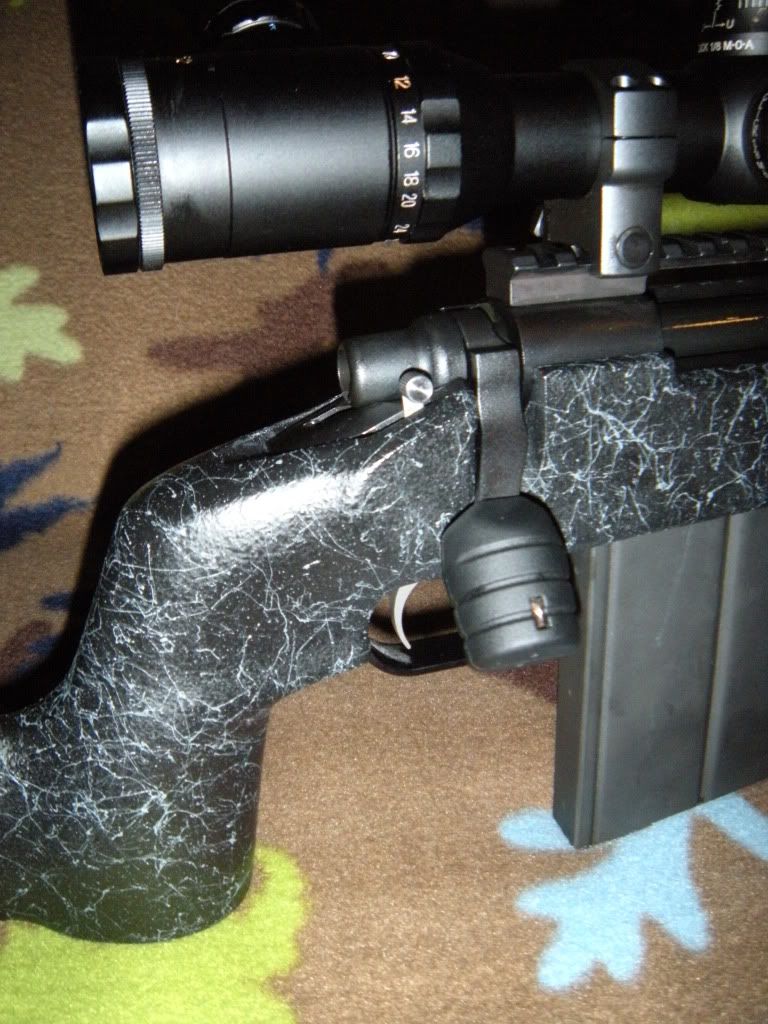 eye relief was generous up to about 24x magnification, after that i found my self moving around to find a sweet spot.
Once I found that sweet spot, I still was a "safe" distance from the possibility of scope bite. (I sent a lot of rounds down range all throughout the magnification range and never once was close to being bit.)
with regards to testing the magnification range the poa/poi did not change at all.
The scope features an illuminated reticle (blue or red) with 5 power settings on each. I am very fond of the blue as it is smooth but at the same time stands out. In low light with cloud cover they proved to be useful and did not interfere with my view. Once the sun came out I was unable to see the illumination regardless of power setting, the whole reticle was still visible just in black. (its my 1st illuminated reticle, this may be normal?)
On the inside of the scope there is a bubble level, allowing the operator to ensure he and his rifle are level. while looking down range it is very difficult to see but when you focus on it you see it much clearer. it does give a flat appearance to the bottom of the sight image but was not a negative to me.
the scope was easy to zero in due to their high and somewhat large turrets. I admit it took a while to get used to the 1/8 adjustment at 100yards but once i did the calculations i was able to get zeroed in 4 shots using factory win ballistic silver tip 168 gr.
My next step was to see if it held its zero, The turrets can be removed via 3 small (i mean small) allen screws in order to place the scope to a repeatable zero, besides this feature the scope features a turret lock to prevent accidental movement. This is a nice feature but I did notice some play in the turret locks. It was by no means enough to move to the next interval but still was a little concerning. I will say removing/inserting the allen screws on the turret nobs was a pain in the neck as I was being very careful and STILL lost 1 screw. after about a total of 50ish rounds I called it a day.
The next day I went back to the range and removed the scope from the rifle by means of removing the mark4 rings.
I placed my ZEISS on the rifle just to get my blood flowing. I then changed scopes back to the KONUS M-30 and my 1st impression was that you can tell the difference between the glass on the two but you have to realllllllllllyyyyyyyy pay attention to the details. Once i locked the scope in place I sent a few more rounds down range and to my relief the scope held its zero perfectly.
I cant tell you that its the best scope in the world, but i sure as h*ll can tell you its one of the best, if not the best for its price range. (can be found online between $300-$400)
Hope you guys enjoyed my review, its pretty much the 1st real review I have ever done but I have some more coming soon!