Discussion Starter
·
#1
·
Well after watching most people on here reloading I finally decided to do the same fortunately a good freind owns a gun shop and was able to set me up with everthing I needed and point in the right direction to start me off.
After tumbling and decapping around a 100 or so 243 and 308 cases I set about looking through this forum and others to see what loads and projectiles they were using man It can get a bit overwhelming trying to decide what projectile powder and primer to use!
I ended up settling with some 168smk's and 165 Nosler Bllistic tips for the 308 and 70 smk's and Nosler Varmit Ballistic tips. Now the next problem was how much powder and how far do I seat them??? Then I was told about a bullet comparator and the sinclair head space gauge (WTF) so on the net again to see how to use them correctly man you can literally find anything you need to know on you tube hey! Now armed with a head space gauge and comparator i was able to get my head space size which was 2.832 Jason Bourne said I should back it off to around 10 to 20 thou of which I did thanks for that mate.
Then according to the handloading guide I was useing it said 42gn of 2208 ADI (australian company) man I got the shit with using the scale so I went out an bought an electronic powder thrower man what a machine it's pouring the next one while you seat the first one. I seated themn at the 10 to 20 thou off the lands and went to the range to test them out.
First up was the .243 which I've never been able to get better than .865 moa with factory ammo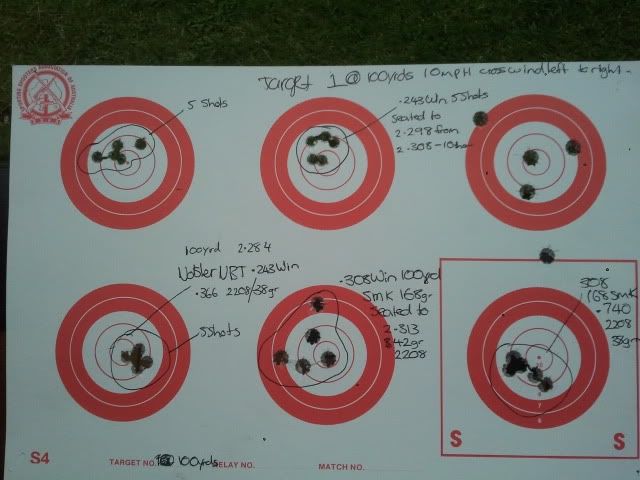 First 5 shot were with Remington Accutips then the next were with Sierra Match Kings 10thou off the lands and i was getting excited. I let the Barrel cool down so I grabbed the .308 started off with some factory ammo then 5 shots of 168 SMK's 20thou off the lands and though I was onto something then another 5 at 10 thou and what a difference they really opened up. Back to the 243 and now 5 shot with the Noslers at 10 thou off and I think I hit the sweet spot I was so stoked to say the least I never thought I could actually make my own hand load shoot that good I've finally seen why people handload.
Definately hooked now!
some other pics off 308 loads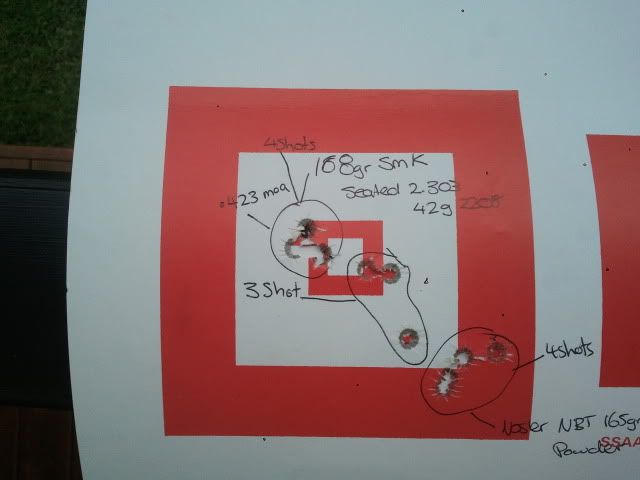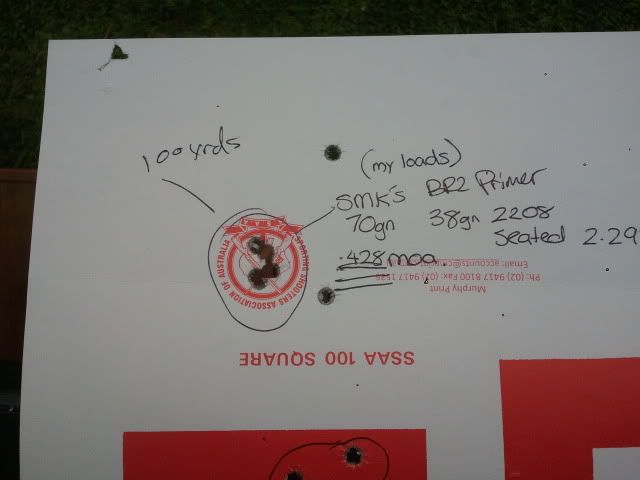 In this last pic Idon't know if you can make it out but the bottom circle farthest to the left was a 4 shot one hole job with a flyer but I coudn't retrieve my target as they just did a target change and the next change was 30mins away I had to get going to make it to work.
So what the next step do I try to get more speed or do I just be happy with what I have at the moment?
Cheers Nathan